Alternatives Containers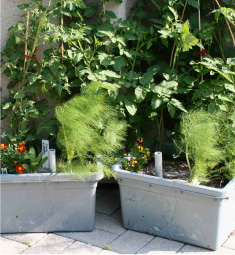 Imagine being able to get fresh vegetables from your rooftop, balcony terrace. With our Alternatives Containers, it's not that hard to imagine! After lengthy experimentation toward finding the most suitable means of greening paved surfaces, our unique container garden method was adopted.
Equipped with a 14 L water reservoir at the bottom of the container, our Alternatives Containers give their plants a constant supply of oxygen and water, thus increasing their growing potential. This technique offers several advantages for the urban gardener:
Makes use of household compost.
Can last up to 4 days without the water reservoir being replenished.
Easy to move and adapt.
Good quality soil is guaranteed.
Affordable.
Purchase your
Container
To purchase your Alternatives Container, please visit our offices Monday to Friday between 10 a.m. and 5 p.m. or send us an email info@alternatives.ca. The cost of the Container kit is $40. Your kit contains:
Alternatives Container (60 cm x 40 cm x 37 cm)
False bottom
Filling tube
Our Guide to Set Up and Use Your Grower.
Build your Own Container
To build your own container with a water reservoir, read our instructions on construction techniques from recuperated materials.
Here are the building instructions (available only in French, English version coming soon!)